Principal Message
" Education means inspiring someone's mind , not just filling their head."
Education is not merely acquirement of facts but also of values which help us to improve the different facets of mankind. It ensures that we leave the world a far better place than we found it.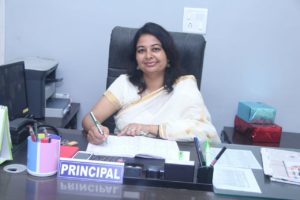 A pivotal role of education lies in shaping the personality of a child into a healthy mind and happy soul, who is not only equipped with 21st century skills and aptitude required for academic excellence but helping him face the challenges of life in a balanced and harmonious way. Therefore, the system of education should work as a catalyst in making each child a balanced human being having his core strengths embedded in the learning experiences emanating from our rich socio-cultural roots.
At New Gyan Dham Public School ,we encourage and prepare students to participate fully, to take risks, to be self-advocates, and to create lasting memories and relationships with peers and staff. I am proud to be the principal of such an exciting and dynamic school.
Our school is bound to provide an enriching, engaging, and challenging curriculum that will prepare students for success while at school and for the years that follow. We believe that students, parents, and teachers all play a vital role in helping students reach their greatest potential. Students are encouraged to take advantage of the many resources and opportunities available to them in School.
At Gyan Dham, we recognize that social/emotional development is as essential to student success as academics.. The foundation for our students' success is based on the partnership among students, staff, and parents. Teachers provide a nurturing environment in which children can learn, take risks, and thrive. Their work, in partnership with our parent community, has and will continue to support us to fulfill our school mission.
At New Gyan Dham Public School, we enterprise to map academic excellence with a good human value system.In this pursuit of excellence, I appreciate, our Management and our Parent fraternity for supporting the school in every aspect. I also laud the relentless efforts of our teachers for giving their best in bringing out the best in each child. But I would exhort the students to be always modest, humble and disciplined, while being ready to expand the horizons of their knowledge and skills by dreaming big and working hard.
Thanks for giving your precious time to visit our website.